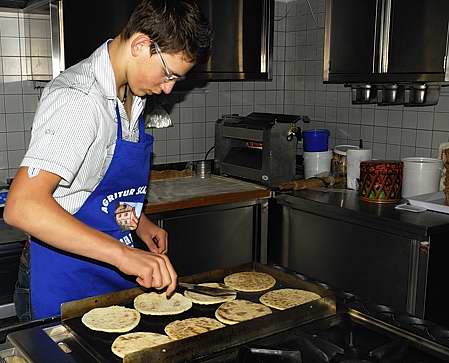 Another Gourmet dicovery
Since the dawn of civilization flat breads have been known around the world as poor man's bread. Some are very well-known on some continents and others we have never heard about.
In Mexico, the "tortilla" is essential to every meal, and in Italy too, almost every region has some kind of flat bread. The central Italian region of Romagna has the popular "piadina", Umbria, the "torta al testo," and in the region of Campania, they make what has became the international symbol of easy, tasty and quick Italian food, "Pizza."
In the past, these flat breads were the symbol of poverty, each one made with common ingredients easily found like wheat flour combined with a liquid to make the dough. Nowadays these breads have become a gourmet accompaniment to a more sophisticated way of dining. They form part of our appetizers or are served with cheeses, or stuffed with sliced cold meats like salami or prosciutto, as it is commonly done in Italy.
While traveling in one of these beautiful valleys of the Trentino region on the farthest Northeastern corner of Italy, very close to the Austrian border we arrived in the Valle dei Mócheni or the "Enchanted Valley" as the locals call it. (I'll share more about this fascinating location in another blog).
Their local flat bread is called "Cuccalar." The dough is made with wheat flour, rye flour and mixed with "latticino" a dairy by-product of the butter production, basically a very low milk content water.
Once the dough is ready, it is shaped in a round flattened disk, about 6 inches in diameter and one inch thick, and quickly cooked on a hot plate, (see the picture above), in about 10 minutes and served immediately. In this area, in the region of Trentino, it is accompanied by a local wine. We drank a Chardonnay-Nosiola blend that was a perfect match with this bread and the home-made cheeses and speck served with it.
Thank you to Antonio, the owner/manager of the Agritur Scalzerhof, for the warm and friendly hospitality.
Agritur Scarzerhof,
Via Frotter, 108
Palú di Fersina – TN
Tel. 011 39 0461 550 074
>
FOR ADDITIONAL INFORMATION PLEASE CALL: 1-507/287-8733
or email: info@travelingtoitaly.com